TAILORED TO YOUR SPECIFICATIONS
At DTS, we recognise the distinct needs of each customer and work in close collaboration with you to ensure the delivery of a dependable and customised design, fabrication, and installation service.
Our Normanby plant is a specialised non-ferrous facility that manufactures using top-grade 304, 316, and 2205 Duplex materials to ensure that our tanks are of exceptional quality.
Call us today to discuss your needs
BESPOKE DIMPLE PLATE DESIGN
We specialise in creating laser-welded dimple plates, tailored to fit your requirements.
We can help you achieve substantial gains in cooling efficiency while simultaneously reducing your cooling expenses.
Discover efficiency gains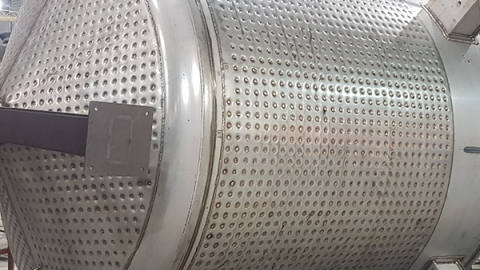 OUR PEOPLE ARE OUR STRENGTH

Between then, our highly qualified team have
180+ years of experience in making food-grade tanks and
350+ years of engineering experience.
LEAN MANUFACTURING
In line with our commitment to efficiency, we adopt lean manufacturing principles. We wholeheartedly embrace these principles, aiming to deliver heightened value to our customers by optimising resource utilisation.
Our steadfast dedication lies in minimising waste and consistently enhancing our processes. This allows us to provide exceptional value, quality, and efficiency while making the most of our available resources.
We believe all aspects of tank design should minimise waste and maximise profit, not just during the manufacturing of the tank, but for the lifetime of the tank and its production.
Read how we lead with lean
THIRD-PARTY PRODUCER STATEMENTS
Get an expert professional opinion on our work.
DTS can offer independent third-party producer statements, design verification, pressure equipment inspection, stationary container certification, and testing for statutory pressure equipment or code requirements for quality assurance.
LARGE VOLUME PRODUCTION
Our production line can be scaled up to produce over 1000 tanks a year.
We can supply standard "off the rack designs" for tanks up to 200,000, or we can custom design tanks to suit your needs.
DESIGNED TO INDUSTRY STANDARDS
DTS tank designs meet and exceed all relevant codes, standards, and statutory and regulative requirements.
If you have any specific needs or requirements, please inform us. We constantly strive to continuously improve and optimise our designs. Customer satisfaction is our priority, and we are committed to exceeding expectations.
AS1692-2006 Steel tanks for flammable and combustible liquids
AS/NZ 1170-2002 Structural and seismic design standard
NZSEE New Zealand Earthquake Engineering Society guidelines
AS/NZ 1554 Structural steel welding
AS/NZ 1657 Fixed platforms, walkways, stairways and ladders. Design, construction and installation
AS1210-2010 Pressure vessels
ASME IX Boiler and pressure vessel welding
ASME VII Design, fabrication, testing, inspection, and certification of both fired and unfired pressure vessels
FAB0089 Approved WorkSafe fabricator
We make:
Pharmaceutical pressure vessels

Farm holding tanks

Wine tanks

Food and beverage tanks

Hazardous chemical tanks

Process and stationary containers

Steam boiler feed water tanks

Fuel tanks
Ask us about your next project
Leave your details below and we'll be in touch.