CHILLER HIRE FOR ANY OCCASION
We've got your next event covered with our portable, refrigerated chillers.
Perfect for keeping your kai and bevvies frosty. Whether it's a concert, a birthday bash, a catering gig, a hunting party, tangi, conferences, weddings, or even an emergency food situation.
DTS chillers are mounted on trailers, so you can easily transport them to your chosen spot and ensure the party stays cool.
Please note: This service is currently only available in Palmerston North.
Call now to book a chiller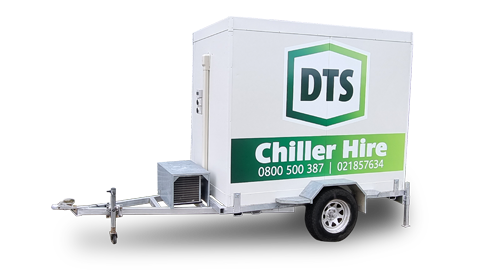 HOW DOES THE CHILLER WORK?
Simply power on and let the refrigeration system cool the room.
Power is supplied to the chiller via a standard wall socket and extension lead (lead not supplied). Temperature is preset and displayed on a digital display allowing for easy monitoring of room temperature.
A stocked chiller takes 3-4 hours to reach the target temperature.
Shelving
Available for hire for short or long term
Internal LED light
Digital temperature controlled
Stabilising legs
230v 10amp connection
Door lock
Rental Cost
Rental Period

Cost (including GST)

Weekend Hire
(Fri 12pm – Mon 10am)

$285

Weekly Hire
(Mon 10am - Mon 10am)

$520

Ask us about special rates for school or community events.
WE ALSO MAKE CHILLER TRAILERS FOR SALE
Custom built in New Zealand to any size, our chiller trailers are constructed with food-grade materials for any situation.
Contact us for a quote