unparalleled durability and reliability
Our overhead fuel tanks are crafted from premium stainless steel, renowned for its unmatched corrosion-resistant qualities that far surpass those of traditional materials like aluminium or mild steel.
This means that our tanks offer unbeatable protection against rust, erosion, and other forms of corrosion, ensuring that your fuel stays safe and secure for the long term.

Each tank can be split to hold petrol and diesel to suit your fuel usage.

FEATURES
Gravity fuel-fed, no pump is needed.

Built to last, constructed in 304 stainless steel.

Water block filter supplied as standard in all DTS tanks.

Powder-coated filter housing for additional corrosion resistance.

4.0m long Macnaught hose with easy-to-use, colour-coded, high-flow swivel nozzles.
TANK

Tank Material:

304SS stainless steel

Recommended Concrete Pad:

150mm H x 2500mm W x

2

2

00

L

Compliance Stickers:

Included: Diesel

and

p

etrol

Capacity

700L, 900L, 1150L, 1400L, 1950L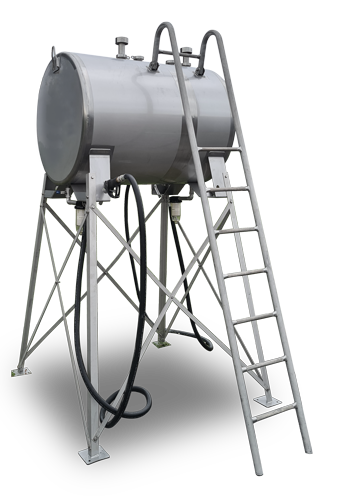 15 YEAR WARRANTY
We stand behind our tanks with an impressive 15-year warranty, giving you peace of mind and protection against any potential defects or malfunctions.
In addition, we offer a 1-year warranty on all ancillary components - anything that's not stainless steel - so you can be sure that your entire fuel storage system is covered.
The last fuel tank you'll buy
With a projected lifespan exceeding 25 years, our fuel tanks are a wise investment.

Once you invest in a DTS fuel tank, you can enjoy reliable and worry-free fuel storage for the long term.
Corrosion resistance
Stainless steel has corrosion-resistant qualities unmatched by aluminium or mild steel.
High-temperature resistance
Stainless steel can manage extreme temperatures, from high to freezing. Great for New Zealand's climate.
Durable earthquake and wind performance
The natural elements in the stainless steel, along with seismic anchoring, make this tank ideal in high wind or earthquake-prone areas.
Safety & Compliance
DTS tanks are engineered to meet Dangerous Goods and HSNO requirements and carry an EPA Manufacturer's certificate.
Compliant for diesel and petrol.
Eco-friendly and aesthetic
Our tanks boast a sleek and polished finish that won't corrode or deteriorate over time like traditional alloy or aluminium tanks. Not only that, but stainless steel is also fully recyclable, making it a responsible and eco-friendly choice.
Mobility
Our fuel tanks can be easily relocated to a new site if needed, without the need for extensive dismantling or reconstruction. This means that you can take your fuel storage with you wherever you go, whether you're relocating your business or simply need to move your tanks to a more convenient location.
Arrange a call back
Leave your details below and we'll call you back about this product.
BENEFITS OF STAINLESS STEEL VS MILD STEEL AND ALUMINIUM
DTS STAINLESS STEEL

MILD STEEL TANKS

ALUMINIUM TANKS

CORROSION RESISTANCE

Excellent
Average
Good

MELTING POINT

1450°C

1450°C

660°C

REASONABLE WARRANTY

15 Years
10 Years
10 Years

EXPECTED LIFETIME

25 Years

8-15 Years
8-15 Years

MAINTENANCE NEEDED TO AVOID CORROSION

No maintenance
needed
May need painting
No maintenance
needed
SPECIFICATIONS
| | | | | | |
| --- | --- | --- | --- | --- | --- |
| CAPACITY: | 700 LITRES | 900 LITRES | 1150 LITRES | 1400 LITRES | 1950 LITRES |
| SPLIT (OPTIONAL) | 35/65 Split, 245/455 | 35/65 Split, 308/585 | 35/65 Split, 403/747 | 35/65 Split, 490/910 | 35/65 Split 685/1285 |
| TANK FOOTPRINT | 1620 W x 1311 L mm | 1620 W x 1580 L mm | 1620 W x 1880 L mm | 1620 W x 2361 L mm | 1820 W x 2400 L mm |
| TANK HEIGHT | 2790mm | 2790mm | 2790mm | 2790mm | 2990mm |
| GROUND TO OUTLET | 1630mm | 1630mm | 1630mm | 1630mm | 1630mm |