The DTS polar wrap reduces your vat refrigeration energy consumption by removing up to 82% of the heat load on your vat.
Weather conditions cause your vat to gain heat. Rain, wind, sunshine, humidity, and high air temperatures, all increase the amount of heat affecting your vat. Stop heat gain and reduce the load on your refrigeration system by insulating your vat with a polar wrap.
Durable and high-quality, if you are on the cusp of compliance, vat insulation may save you from investing in more costly systems.
KEY FEATURES & BENEFITS
Reduce heat load on your vat by up to 82%

Vat insulation can help prevent the formation of tide lines on the insides of the vat. Tide lines can be hard to clean and contribute to bacterial grades

Reduce running time on the refrigeration system, and save on wear and tear

Prevents heat loss during the CIP wash to maximise the vat clean

Can be applied to vats from 5400 to 29000 litres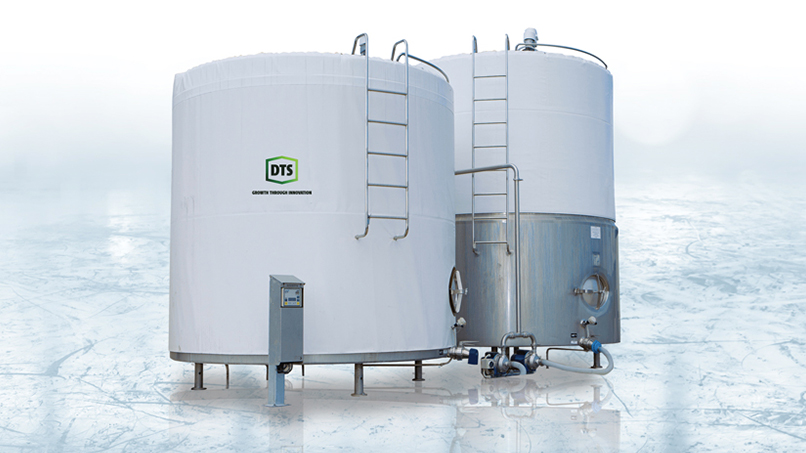 VAT COMPARISON - WRAP VS NO WRAP
These graphs show the vat temperature, ambient temperature, and compressor use over time on two separate vats at the same location during February 2022.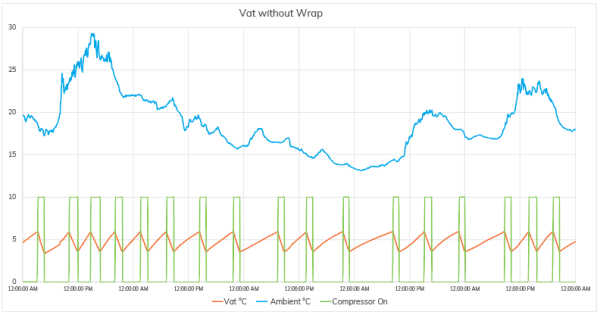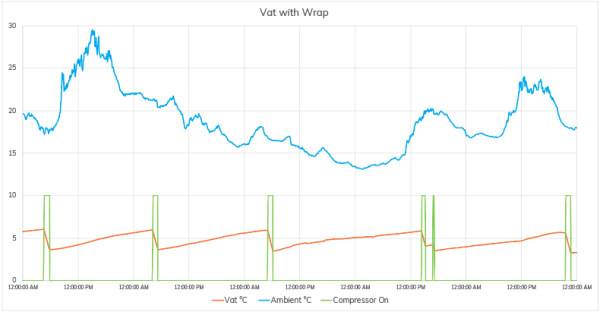 Technical specifications
Outer Layer:
PVC 630GSM UV stabilised material, with a PVDF top-coat and anti-wick internal structure.

TiO2 nanocoating, anti-UV and self-cleaning, a high-quality membrane for longer outdoor life.

Insulation Material:
30mm layer of high strength, low density, open cell polyurethane foam.
Contact your Area Manager for a quote
WARRANTY
Made from reinforced PVC for long-life durability, the DTS next-generation polar wrap comes with a one-year warranty.