have confidence with service-man
At DTS, we understand the importance of keeping your operations running smoothly. With the increase in New Zealand's carbon unit price (NZU) and the rising cost of refrigerant gases, it's more important than ever to ensure your equipment is in top working condition. That's why we offer our Service-Man maintenance program, an annual check-up of your refrigeration and pre-cooling equipment.
Don't let the increasing cost of refrigerant gases catch you off guard.
GET PROACTIVE, SAVE BIG DOLLARS
Re-gassing a refrigeration unit can cost thousands.
"If an annual check hadn't found the problem that could have meant re-gassing the unit at a cost of around $5000, not to mention the potential milk loss on top of that.
Ben Lagan discusses the massive savings of catching a refrigeration issue early on.

Read more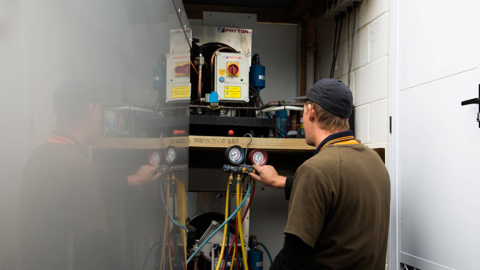 protect your plant
DTS Service-Man will give you full confidence that your farm refrigeration and precooling equipment is operating as intended:
A comprehensive annual 35-Point Service Check of registered equipment, performed by a qualified service technician.
A detailed report on your registered equipment including recommended remedial actions and work to be carried out to ensure that your equipment is performing to the manufacturer's standards.
A 5% loyalty discount for all non-scheduled reactive "call-outs" - exclusive to Service-Man customers.
12 Month manufacturer's warranty applies to all parts.
Call us to join Service-Man
SAVE MONEY
Service-Man customers also receive a 5% discount off the recommended retail price on a range of DTS products, services, and hardware (including drafting gates):
The Service-Man plan costs $350+gst per annum for a single unit.

Each additional unit included in the plan will cost an additional $150+gst.

The price includes labour, mileage, and consumables (excluding refrigerant).

All parts and labour used to complete any required repairs are chargeable.