HANDS-FREE REAL-TIME MILK VAT INFORMATION
Do you milk cows with a phone in your hand? We didn't think so…
We designed the Vat-Man Shed Display so you can get your vat data live and at a glance, without the need to check your phone during milking.
The Vat-Man in-shed display is exclusive to DTS.

It's just one of the perks of being a DTS customer.
Real-time information:

All key milk vat data and measurements are displayed in real-time.
Hands-free:

Alleviates the need for you or your staff to use a mobile phone in the milking shed to view vat data.
Easy to see:

High visibility, even from a distance.
New staff?

A great reminder to turn on the milk chiller and agitator – especially for new staff and relief milkers.
Immediate action:

Milk cooling and quality issues can easily be identified immediately, even before a text alert is sent.
Multi-vat:

A single display can be used for up to 3 vats, or each vat can have its own or multiple displays.
Position it anywhere:

Can also be used as a display near the milk vat(s) for a tanker driver.
TECHNICAL SPECIFICATIONS
Get the information you need, at a glance.
Milk Vat temperature LED segment display.
Milk Inlet temperature LED segment display.
Milk Vat Volume Level indicators (red level indicators from >80% vat level).
Refrigeration Indicator LED (green for <10°C, red for >10°C).
Agitator Indicator LED (green for On, red for Off).
All data is displayed in real-time and updates approximately every second.
Control switch to swap between vats if one display is used for up to 3 different vats with visual display.
Dimensions: 180 x 255 x 75mm.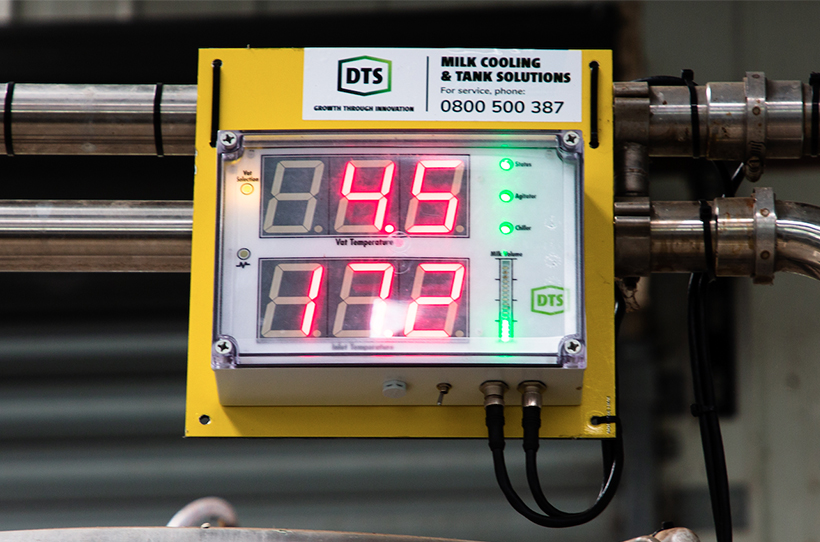 PRICING
Payment Option 1 - Monthy Subscription
Vat-Man Display
Subscription
$30.00
Vat-Man Display
Installation
$330.00
Payment Option 2 - Outright Purchase
Vat-Man Display
$1200.00
Vat-Man Display Install
$330.00
Prices exclude GST
Monthly option billed through FarmSource account or DTS direct debit comprising of a one-off installation fee and monthly subscription fee.
Leave your details below and we'll call you back about this product.